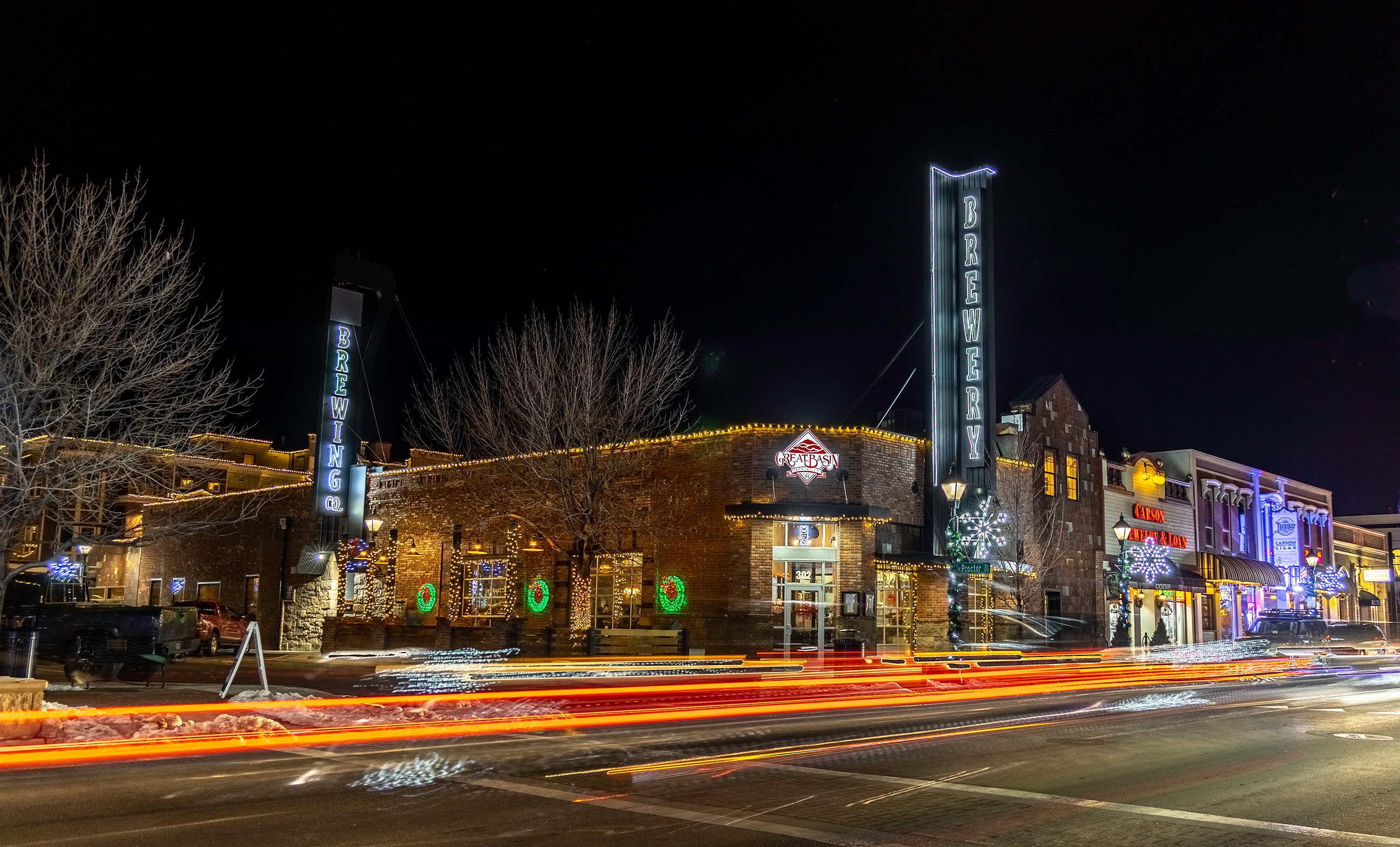 Great Basin Brewing
/ Carson City
Our Newest Brewpub in the Heart of Nevada's Capitol
Welcome to our newest brewpub! You'll find a selection of 15 of Nevada's most award-winning craft beers on tap in addition to 3 guest seasonal taps. Our food menu is packed with Great Basin classics as well as a few Carson City exclusive dishes. Always family-friendly, and during the warmer months, we also feature pet-friendly outdoor dining.
Order Online for Pickup
Location
302 N Carson St.
Carson City, NV 89701
View Map
Phone
Hours
Monday - Sunday: 11am - 8:30pm
Happy Hour
Monday - Friday 3p - 6p (excluding holidays)
On Tap
Starters
ONION RINGS Wild Horse Ale battered, BBQ sauce, buttermilk ranch 10

KETTLE CHIPS Kennebec Potatoes, Smoked Paprika 5.5 ADD: Onion Dip +3.5

WILLY DILLYS Nevada Brining Co. Icky IPA Pickles, Wild Horse Ale battered, parmesan, buttermilk ranch 9

SMOKED CHICKEN WINGS Franks Red Hot, BBQ, Memphis Dry Rub or Mango Habanero served with buttermilk ranch 15

BONELESS WINGS Franks Red Hot, BBQ, Memphis Dry Rub or Mango Habanero served with buttermilk ranch 14

BASKET OF BREWERY FRIES Ketchup or ranch 6.5 Garlic or Sweet Potato Fries +2

ALE BATTERED ZUCHINI Wild Horse Ale battered, parmesan, buttermilk ranch 10

AHI POKE Sesame marinated ahi tuna, avocado, wontons, tortilla chips 15.5

BURNT END FLATBREADS Pork belly, coleslaw, sweet chili glaze, naan flatbreads 13

JALAPEÑO WONTONS Cream cheese, diced jalapeño, honey jalapeño sauce 9.5

KUNG PAO BRUSSELS Crispy brussels sprouts, fresh cilantro, roasted peanuts 11

STICKY FRIES BBQ sauce, white cheddar, bacon, scallions 11 Sweet potato fries +2

BREWERY PRETZEL Brioche pretzel twist, garlic butter, coarse salt, beer cheese 9.5
Soup & Salads
DAILY SOUP Daily creations 5/8

MIXED GREEN SALAD Red wine vinaigrette, radish, carrots, Icky bread croutons 5/8

CAESAR SALAD Romaine, house-made Caesar dressing, Icky bread croutons, Parmesan 8/12

BUFFALO CHICKEN COBB Crispy chicken, red onion, cucumber, bacon, cherry tomato, blue cheese, avocado, hard boiled egg 18

KALE SALAD Tuscan kale, lemon garlic vinaigrette, crispy grana, poached egg 12

AHI SALAD Greens, cabbage, cherry tomatoes, wonton strips, green onion, sesame vinaigrette 18

Salad Additions: Chicken 6 | Shrimp 7 | Steak 7 | Salmon 10
Food Fired Pizzas
72-hour Fermentation dough | Gluten-Free Dough and Vegan Cheese Available +3
MARGHERITA Basil, mozzarella, tomato sauce, EVOO 15

DOUBLE DOWN Tomato sauce, mozzarella, sausage, pepperoni, serrano peppers, red onion, hot honey 17

PEPPERONI Tomato sauce, ezzo pepperoni, sicilian oregano, mozzarella 16

BEE STING Serrano peppers, basil, salami, red onion, mozzarella, honey 17.5

FUN GUY Caramelized onions, roasted mushrooms, mozzarella, EVOO 16 ADD: Sunny side egg +2

THREE LITTLE PIGS Tomato sauce, mozzarella, salami, sausage, bacon 18.5

bbq chicken BBQ Sauce, mozzarella, grilled chicken, red onion, cilantro 18

big kahuna Tomato sauce, mozzarella, grilled pineapple, ham, cilantro, red onion, sweet chili sauce 17
Butcher Platters
MIX & MATCH
PICK 3 - $16 | PICK 5 - $23 | BREWMASTER PLATTER - $34
SERVED WITH MUSTARDS, PICKLES & GARLIC ICKY BREAD

PORK CUTS:
Pork Belly with hot honey
Smoked Ribs with bbq sauce
Crispy Shoulder with Carolina gold
Pig Wings with sweet chili

LIBERTY ARTISAN SAUSAGES:
Icky Beer Brat
JALAPEÑO Cheddar
Basque Chorizo
Deathwish Habanero
Burger and Sandwiches
All burgers are cooked to a minimum of medium. Make it veggie style by subbing a veggie burger. Substitute a pretzel bun for .75
Choice of side: brewery fries | sweet potato fries +2 | garlic fries +2 | cup of soup | green or caesar salad
GO-TO BURGER Lettuce, tomato, onion, choice of cheese 14.5

BREWERY BURGER Mustard, caramelized onions, pastrami, beer cheese, pretzel bun 18

CARSON BURGER BBQ sauce, bacon, crispy onions, smoked cheddar 16.5

CITY BURGER Cajun rubbed, sautéed mushrooms, blue cheese, arugula, citrus aioli 16

B.L.A.T. Bacon, lettuce, avocado, tomato, garlic aioli, grilled Icky bread 13

FRIED CHICKEN SANDO Buttermilk fried chicken thighs, pickles, coleslaw, spicy aioli 15

FRENCH DIP Thinly sliced steak, caramelized onions, Parmesan crusted icky roll, brewery au jus 16.5

CHICKEN BACON AVOCADO Chicken breast, bacon, avocado, provolone, citrus aioli, lettuce, tomato, onion, pretzel bun 16

ICKY SAUSAGE SANDWICH Icky Bratwurst, Icky roll, caramelized onions, mustard 13.5
Pub Favorites
SALMON BOWL Brown rice, edamame, red onion, carrots, marinated cucumber, cilantro, spicy mayo, avocado 22

BRICK CHICKEN Leave No Trace Lager pan sauce, roasted potatoes, broccolini & carrots 24

CRISPY FISH TACOS Wild Alaskan cod, Wild Horse Ale battered, flour tortillas, cabbage slaw, salsa verde, fries 16

SMOKED RIBS BBQ sauce, coleslaw, brewery fries 18 | 24

BREWERY FISH & CHIPS Wild Horse Ale battered, wild Alaskan cod, cabbage slaw, brewery fries 14.5/18.5

TOP SIRLOIN STEAK Outlaw Milk Stout steak sauce, sauteed onions & mushrooms, roasted potatoes, broccolini & carrots 24

SMOKED PORK BELLY MAC 'N' CHEESE Fusilli pasta, sharp cheddar, cream, kettle chip crunch 18

CHIPOTLE CHICKEN PASTA Bowtie pasta, chipotle cream sauce, bell peppers, garlic, green onions, Parmesan, garlic Icky bread 17

SPAGHETTI & MEATBALLS Marinara, meatballs, Parmesan, garlic Icky bread 18
Weekly Specials
---
Happy Hour ~ Monday-Friday from 3-6pm enjoy most pints of our award-winning craft beer for just 4.5
Monday ~ Grab a burger and beer for 15
Tuesday ~ Tightwad Tuesday 4.5 pints all day long
Wednesday ~ Any 2 Pizzas for 28
Thursday ~ BOGO Crowler + Growler fills
Friday ~ House-smoked Prime Rib for 28
Brewery Events
---
Check back soon, we're busy brewing' up the next event now!